Food Testing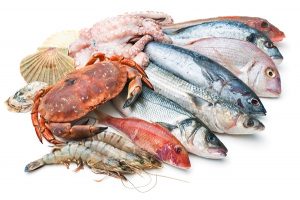 Multi-Class Veterinary Drug Residue Test
80% of the US consumption of seafood is imported and 50% of it is sourced from aquaculture operations. As the seafood aquaculture industry expands, concerns for the use of unapproved veterinary drugs have increased. The FDA has issued an import alert on seafood due to the alarming increase in unsafe levels of antibiotics and antimicrobials such as chloramphenicol, nitrofurans, dyes, sulfonamides, and quinolones.
Multi-residue veterinary drug testing of sulfonamides, trimethoprim, fluoroquinolones, quinolones, triphenylmethane dyes, and methyltestostereone are quantified by LC-MS/MS.
Sample types: Salmon, Shrimp, Crab, Lobster, Trout, Tilapia, Eel, Pangasius, Sablefish, Swai
Method Origin: FDA LIB 4562
Brilliant Green
Ciprofloxacin
Crystal Violet Cation
Enrofloxacin
Flumequine
Leucocrystal Violet
Leucomalachite Green
Malachite Green Cation
Methyltestosterone
Nalidixic Acid
Norfloxacin
Oxolinic Acid
Sulfacetamide
Sulfachloropyridazine
Sulfadiazine
Sulfadimethoxine
Sulfadoxine
Sulfamerazine
Sulfamethazine
Sulfamethoxypyridazine
Sulfamethoxazole
Sulfapyridine
Sulfaquinoxaline
Sulfathiazole
Trimethoprim
Pesticide Residue Analysis
Multiclass/Multiresidue Pesticide Analysis:
Glyphosate
Carbamates
Organochlorines
Organonitrogens
Organophosphates
Pyrethrum/Pyrethroids
Triazols
Individual Pesticide Analysis:
Abamectin
Acephate
Azoxystrobin
Aldicarb
Bifenazate
Bifenthrin
Boscalid
Captan
Carbaryl
Carbofuran
Chlorantraniliprole
Chlordane
Chlorfenapyr
Chlorpyrifos
Clofentezine
Coumaphos
Cyfluthrin
Cypermethrin
Daminozide
Diazinon
Dichlorvos
Dimethoate
Dimethomorph
Ethoprophos
Etofenprox
Etoxazole
Fenhexamid
Fenoxycarb
Fenpyroximate
Fipronin
Flonicamid
Fludioxonil
Glyphosate
Hexythiazox
Imazalil
Imidacloprid
Kresoxim-methyl
Malathion
Metalaxyl
Methiocarb
Methomyl
Methyl parathion
Mevinphos
Myclobutanil
Naled
Oxamyl
Paclobutrazol
Pentachloronitrobenzene
Permethrin
Phosmet
Piperonylbutoxide
Prallethrin
Propiconazole
Propoxur
Pyrethrins
Pyridaben
Spinetoram
Spinosad
Spiromesifen
Spirotetramat
Spiroxamine
Tebuconazole
Thiacloprid
Thiamethoxam
Trifloxystrobin
Chloramphenicol Residue Test
Chloramphenicol is quantified using LC-MS/MS.
Sample types: Frog legs, Salmon, Shrimp, Crab, Lobster, Trout, Tilapia, Eel, Pangasius, Sablefish, Swai
Method Origin: FDA LIB 4508
Chloramphenicol Level of Concern: 0.3 ppb
Microbial Pathogen Screening
Microbial Pathogen Screening of Food products by qPCR and plate culture methods set forth by the FDA Bacterial Analytical Manual and United States Pharmacopeia.
Aerobic Plate Count
Yeast and Mold Plate Count
E. coli/Coliform Plate Count
Staphylococcus aureus
Pseudomonas aeruginosa
Salmonella enterica
Candida albicans
Heavy Metals Analysis
Heavy Metals analysis by ICP-MS is available for your testing needs.
Arsenic (As)
Cadmium (Cd)
Lead (Pb)
Mercury (Hg)